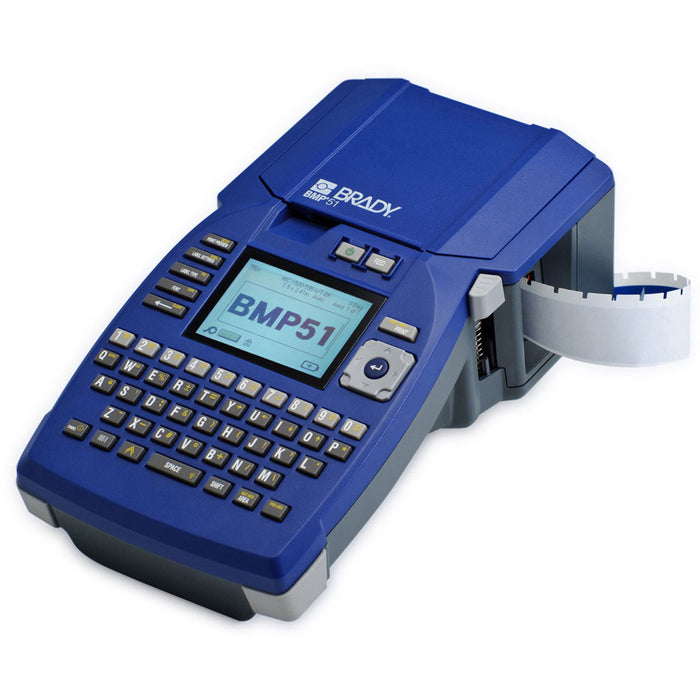 Brady Bmp41 Handheld Label Printer
Original price
$3.300.000,00
-
Original price
$3.300.000,00
$3.300.000,00
-
$3.300.000,00
Current price
$3.300.000,00
The Bmp41 mobile printer is a mid-range labeling solution that can print up to 300 labels per day. And not only that, but you can also print continuous or die-cut labels up to 1in (2.54cm) wide.
The Bmp41 is a tough printer that stands up to harsh conditions, and will get the job done wherever you need it to. Plus, it's packed with extra protection to withstand drops up to six feet (1.82m) high.

Portable/Durable: Withstands a 6 foot (1.82 m) drop. High strength magnet attachment. Durable rechargeable battery.

Efficient: Qwerty keyboard. Large LCD screen with intuitive interface. Smart chip technology for automatic label configuration

Versatile: Continuous and pre-cut labels. Wizards, symbols, barcodes, and serialization templates included. Independent use or via PC connection.

Exceptional Media Variety: Print durable 1in (2.54cm) wide pre-cut or continuous labels. It is compatible with up to 10 different materials. Print for a variety of applications including wire marking, sleeves, panel labeling, terminal blocks, patch panels, general identification and more.
Includes: Rechargeable battery pack, mc1-1000-595-wt-bk cartridge, usb cable, hard case, ac adapter (Bmp41-ac), product cd, printer drivers cd and quick start guide.