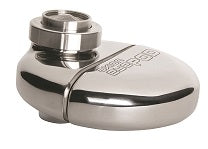 eyePod eyewash with Axion technology
Original price
$1.123.900,00
-
Original price
$1.123.900,00
$1.123.900,00
-
$1.123.900,00
Current price
$1.123.900,00
Eyewash with Axion technology to be attached to the faucet, which can be placed in any office, such as doctors, dentists, laboratories and schools.
With attractive design, different and low cost.
By rotating the front part of the eyePod once to the top, it immediately changes into an eyewash. The water is released by the small showers of the eyewash in a relieving action. The face of the eyePod is turned to the bottom of the small showers when not in use, which keeps the device free of dust or insect accumulation.
It comes with a variety of industry-grade adapters that allow it to be used on almost any faucet model. Its installation is simple: just remove the screws and the aerator under your faucet and place the eyePod eyewash unit on it. Soon, you have your eyewash ready to use.
Being a prevention and safety device, the eyePod was built with a thermostatic sensor valve that closes automatically when the water temperature is 37ºC or more, escaping the hot water to the aerator in its lower part. This protects the hot water from going into the eyes of the injured. When the temperature returns to "acceptable", the flow is automatically started again.
Made in polished stainless steel.
You need a pressure of 2.1kgf/cm2 up to 5.0kgf./cm2. We recommend a pressure of 3.0kgf/cm² so that your equipment has a better performance.
This equipment complies with Ansi z358.1-2009.
Eyewash flow: 1.5 liters/minute.
Installation: equipment for fixing on the faucet with crank activation.