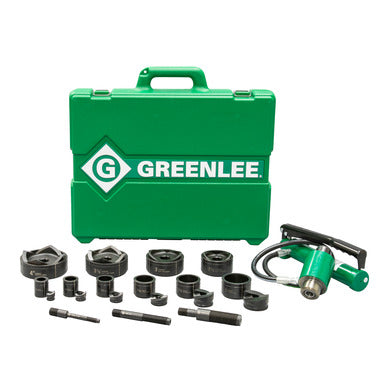 11 Ton Hydraulic Knockout Kit with Hand Pump and 1/2" - 4" Slug-Buster® Greenlee
Sold out
Original price
$0,00
-
Original price
$0,00
Compact and lightweight design: quick and easy portability and use for one person
Knurled edge for better grip during drilling
New die design optimized for a wider variety of materials and keys
Laser markings to more quickly identify parts. Alignment marks for greater accuracy.
Simple Braiding: Uncoated males with "male" tip help prevent braiding problems. Hex key access for easy removal from the tool.
Compatibility: Works with all Greenlee Knockouts. Same uncoated taps used with the Intelli-PUNCH™ Ram, LS50L2 and 746A
Punches, dies, uncoated taps and case made in the USA.
Wrench made in the USA with components from the USA and other parts of the world